Spike in the job outlook for medical assistant professionals throughout U.S.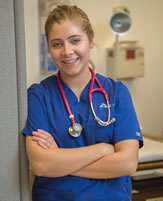 Many people searching for a career are looking for a field that is rewarding beyond the financial benefits. The Harvard Business Review cites that employees working for a "cause" are more likely to commit their "whole selves" to their work, making them more satisfied employees who stay longer in their career field. They classify cause as "feeling that you make a meaningful impact, identifying with the organization's mission, and believing that it does some good in the world." It is a common concept that a sense of purpose can have a meaningful impact on our lives, especially in relation to our careers.
The medical field is often where individuals look to in order to have this positive impact on their communities. Some career seeker's thoughts can be limiting when they think about the medical field, because the years of schooling, studying, and student debt can be daunting. Becoming a certified medical assistant through programs like those at Beal College might be the right avenue to find that fulfilling career in the medical field.
Medical assisting can also open the doors to multiple work environments such as a physician's office, hospitals, outpatient care, or more specialized areas like optometrist and chiropractic offices. Some medical assistants are even in administrative positions. This choice in the field can allow for medical assistants to step into a role that is right for their skills and personal situations like their own wellness, educational opportunities, and families (which Forbes deems things Millennial's are seeking in their occupations).
Not only are medical assistants able to achieve an emotionally fulfilling career, they are also assured a stable and well-paying job too. Being versed in skills like analytics, technology, interpersonal adeptness and communication is essential to success in this rewarding practice. Financial compensation for these positions has the potential to bring in over $45,000 a year, according to the United States Bureau of Labor Statistics.
This source also claims that the need for medical assisting professionals is on the rise. While the average projected growth for all occupations by 2026 is at 7%, a career in medical assisting is at a staggering 29% projected increase. This is significant in the prosperity of this career. In the Bangor area alone, there are 16 pages of job listings for medical assistant professionals on Indeed.com.
Is a Rewarding Career in Medical Assisting Right for You? Get More Info…
For immediate questions, call 207-307-3900.  Visit our Medical Assistant program page to learn more!