Get the Skills to Become an Addiction Counseling Professional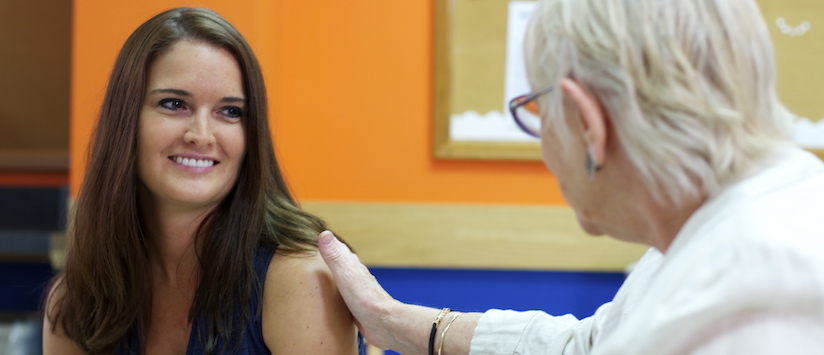 Addiction Counseling Program – Online or On Campus!
If you have a desire to help others who are struggling with substance addiction, consider Beal University's Addiction Counseling program, designed to begin in the diploma program, advance to associate degree and further complete a bachelor degree while working in the field.
You know the devastation addiction can cause, and you believe you have the ability to help others empower themselves. Perhaps you've overcome addiction yourself, and have become stronger for having survived it. You have the willpower, now all you need is training and you'll be on your way to starting a fulfilling career as an Addiction Counselor.
Your Future in Addiction Counseling
The Addiction Counseling program is designed to provide you with invaluable skills so you can counsel clients through the recovery process. Topics include assessment, treatment planning, individual and group counseling, case management, crisis intervention, vocational rehabilitation, trauma and recovery, client education, and community resources. Discussions will occur around special issues including sexual harassment, gender, aging, disabilities, cultural differences, and co-occurring disorders.
Throughout the program, you'll learn to apply theories of addiction, substance assessment, and counseling techniques – including motivational counseling. You'll grow to understand the neurobiology of addiction, family addiction dynamics, and special population concerns. Throughout the program you will explore ethics and boundary considerations, all while working and interacting with those involved in Addiction Counseling. Lastly, but still very important, you'll develop an understanding of diversity and tolerance for others.
With flexible online and on-campus schedules, smaller class sizes, and accelerated programs, you will feel prepared and supported to pursue your career goals upon graduation.
Next Start Date: Sep 6thAddiction Counseling Beal University - Bangor Campus You want to make a difference in peoples' lives during their darkest hours. You're confident that you could give impactful counseling services for those who are struggling with addiction - that's why the Addiction Counseling Diploma or Degree program at Beal University may be the right choice for you.https://beal.edu/wp-content/uploads/2018/10/saprogram.jpgBeal University
The best way to see if Beal University is the right fit for you is to contact an admissions representative. Get more information on the Addiction Counseling program, class schedules, and financial aid options so that you can make an informed decision about your future. Get more info or Book a Tour.
Diploma and Degree Options
Beal University offers a 14-month* Addiction Counseling Diploma for those who wish to take a shorter program and quickly start a career.  Diploma graduates can then complete the Associate's degree Diploma programs in only  8-months*.  Alternatively, you can take the remaining courses to complete the Bachelor of Science Degree, which could lead to increased opportunities and a wider breadth of knowledge.
At Beal University, we offer three Addiction Counseling programs:
Addiction Counseling – Diploma | 14 Months*
Available 100% Online or Hybrid

If you are looking to quickly start a career in Addiction Counseling, consider our 14-month* Diploma program. This program is intended for those who wish to begin in a shorter program as a first step into becoming an Addiction Counselor.
Addiction Counseling – Associate's Degree | 20 Months* (only 8 months with Addiction Diploma)
100% Online 
Our 8-month* Addiction Counseling Associate's Degree completion program is designed for the diploma graduate to expand their academic foundation to further their career in addiction counseling services.
Note:  The Addiction Counseling Associate's Degree program is available to US students only.
Addiction Counseling – Bachelor of Science Degree | 40 Months*
100% Online
The 40-month* Bachelor's in Addiction Counseling Degree program will provide you with the knowledge and skills you need to provide direct client services in sincere and compassionate relationships. Upon completion of this program, you will have a comprehensive academic foundation and advanced core classwork to enhance an existing career or begin a career as an Addiction Counselor.
Note:  Students who possess a Diploma in Addiction Counseling may transfer to the Bachelor's Degree program and complete within 26 months*. Students who transfer from the Associate's Degree program may complete the Bachelor's program within 20 months*.
Transfer Credits Accepted
Already have college credits? You could get credit for your previous coursework and graduate even sooner! Get info today to learn if you qualify.
Become Qualified in Addiction Counseling
The Addiction Counseling program offers flexible and student-centered program options to prepare students for careers as Addiction Counselors (and for related fields). Our instructors represent a broad range of experience, skills, and knowledge in the area. University faculty with research and training expertise, as well as experienced practitioners in drug and alcohol treatment across many demographic groups and treatment settings, make up our quality group of instructors.
During the Addiction Counseling program, you'll take courses such as:
Psychosocial Rehabilitation
Vocational Rehabilitation
Crisis Identification and Resolution
Interviewing and Counseling
Case Management
Group Process
Trauma, Sexual Abuse, and Recovery
Introduction to Addiction Counseling
Ethics and Boundaries in Addiction Counseling
Motivational Interviewing
Multicultural Counseling in Addiction
Addiction and the Family
Co-occurring Disorders
General Courses
If you choose to take either the 14-month* Substance Abuse Counseling Diploma or the 8-month* Associate's Degree, you will not be required to complete all of the courses that appear on this list.
I really enjoyed the small classes, and the professors were always eager to answer my questions.
Online Class Delivery
All programs at Beal University are offered with hybrid learning options! You have the choice to complete the Addiction Counseling Diploma 100% online or in a hybrid of online and on-campus learning. Distance learning fits your life schedule, letting you complete your courses stress-free. Hybrid and online learning options give you the peace of mind, flexibility, and support that you need to succeed!
Certified/Licensed Alcohol and Drug Counselor**
Graduates from our associates or bachelors degree in addiction counseling may choose to pursue licensure and/or certification through examination administered by the state in which you reside. Achieving licensure/certification as a CADC, LADC is an accomplishment that tells the world you have the commitment and dedication needed to promote change and save lives.
Hear From an Addiction Counseling Graduate
Diverse Career Prospects
Addiction Counselors work to provide support to individuals and groups throughout the recovery process. These skills are indispensable in many settings – day programs, counseling programs, reentry centers, detention facilities, residential and outpatient counseling programs, employee wellness programs, and hospital detox facilities.
As a graduate of the Addiction Counseling program, you'll be fully prepared to take on rewarding positions such as:
Addiction Counselor
Certified Alcohol & Drug Counselor (CADC)

Counselor Associate

Chemical Dependency Counselor

Psychiatric Tech
Counselor Associate
Child/Youth Provider
Chemical Dependency Counselor
Addictions Counselor
Campus Aide
Addiction Counseling Professionals Are Needed to Fill Many Roles
Addiction Counselors counsel and advise individuals with alcohol, tobacco, drug, or other dependency problems. They may counsel individuals, families, or groups, or engage in prevention programs.
As an Addiction Counselor you may:
Counsel clients or patients, individually or in group sessions, to assist in overcoming dependencies, adjusting to life, or making lifestyle changes
Develop client treatment plans based on research, clinical experience, and client histories
Conduct chemical dependency program orientation sessions
Review and evaluate clients' progress in relation to measurable goals described in treatment and care plans
Assess individuals' degree of drug dependency by collecting and analyzing urine samples
Addiction Counseling Student Group
A dedicated student-run study group to help you succeed!
The Addiction Counseling study group aims to help students with their academic achievement, as well as professional development. Join the group to discuss the curriculum, study and prepare for exams and projects, and network with students, faculty, and professionals in the Addiction Counseling field. This group is available online. If you're interested in joining contact James Siebert.
Is a Rewarding Career in Addiction Counseling Right for You? Get More Info…
If you're interested in learning more about a career in Addiction Counseling, fill out the form on this page to receive more information. A friendly Beal University Career Advisor can answer career questions, guide you to our virtual tour, and get you helpful financial aid information. Get the answers you need to discover the perfect career path for you.
For immediate questions, call 207-307-3900
*Program length when completed in normal time.
**Requirements of eligibility for licensure/certification vary by state.  State of Maine information is available at https://www.maine.gov/pfr/professionallicensing/professions/adc/licensing.