Human Resource Program
• 100% ONLINE •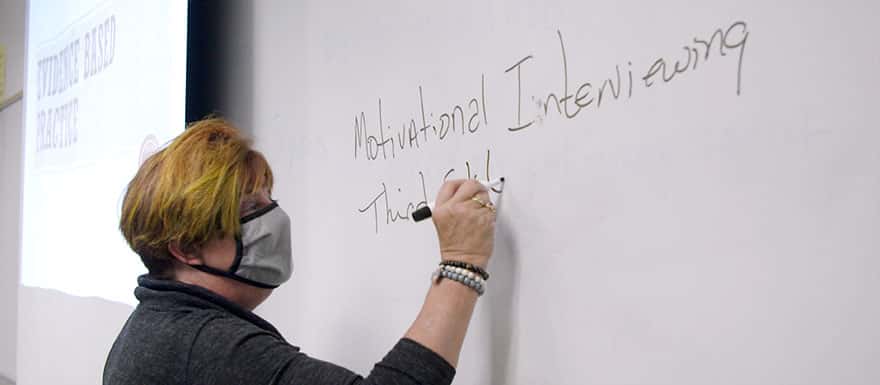 Online 20-Month* Human Resource Program
Human Resource professionals have an array of sectors to choose from since they may find employment in nearly every industry. The role of a Human Resource professional is to plan, direct, and coordinate the administrative functions of an organization. They may oversee the recruiting, interviewing, and hiring of new staff; consult with top executives on strategic planning; and serve as a link between a company's management and its employees. Therefore, it is essential that Human Resource professionals have strong communication skills coupled with knowledge of labor laws and office policies.
Your Future in Human Resources
If they do their jobs well, Human Resource professionals help companies flourish by keeping employees safe, secure and compensated while also requiring them to perform their job duties, be productive, and abide by company procedures. Human Resource professionals act as moderators – they may support managers by systematizing the workplace and enforcing company rules, or they may advocate for and mentor employees who are having a difficult time. If you think you can liaise with both superiors and workers to find an effective working relationship for all, Human Resources could be the right career path for you.
Next Start Date: Oct 30thHuman Resources Beal University - Bangor Campus 99 Farm Road Bangor ME USA 04401 During the business-focused Human Resource Management Associate Degree program, you'll get application-oriented training in many aspects of Human Resource Management, such as accounting and payroll, employee benefits, employment law, management communications, principles of marketing, ethics in business and more. All this to thoroughly prepare you for when you enter the workforce.https://beal.edu/wp-content/uploads/2021/09/human-resources-hero.jpgBeal University
The best way to see if Beal University is the right fit for you is to contact an admissions representative. Get more information on the Human Resource Associate's Degree program, class schedules, and financial aid options so that you can make an informed decision about your future. Get more info or Book a Tour.
Learn the Principles of Human Resources
The Human Resource Associate's Degree program is designed to prepare you for an entry-level career in the field of Human Resources. Human Resource professionals may also take the program to enhance their education. This degree offers Human Resource theory and concepts along with the practical skills necessary to boost professional performance.
As a student in the Human Resource Associate's Degree program, you'll experience an application-oriented, real-world focused education. This program provides a strong foundation in business, along with general education courses designed to support academic and professional success.
With flexible online and on-campus schedules, smaller class sizes, and accelerated programs, you will feel prepared and supported to pursue your career goals upon graduation.
The Human Resource Associate's Degree program includes courses in:
Introduction to Business
Human Resource Management
Motivational Interviewing for the Business Professional
Compensation & Payroll
Employee Benefits
Employee Training & Development
Employment Law
Superior Customer Service
Management Communications
Ethics in Business
Principles of Marketing
Accounting
General Education Courses
Catered and comfortable. I found Beal College to be very relaxing and less stress then traditional schools.
An On-Campus Experience, From Home
Beal University designed the Business Administration programs with a student-centric approach to allow the freedom of remote learning. Students will not feel alone, though. Beal's support system is there to help students succeed within the program, and into their professional careers.
Students will not have to worry about missing out on a traditional learning experience. Group projects, discussion questions, and integrative assignments create an interactive curriculum. Subsequently, this provides a hands-on experience. In addition to this, students can still access campus services such as the writing center, library services, technical support, and career services.
Diverse Career Prospects
There are employment opportunities in nearly every industry for Human Resource professionals. They may take on positions with job titles such as:
HR Specialist
HR Assistant
Corporate Recruiter
Payroll Clerk
Employment Coordinator
Employment Representative
Employment Specialist
HR Coordinator
Recruiter
Human Resources Associate
Human Resource Consultant
Human Resource Representative
Human Resource Professionals Are Needed to Fill Many Roles
Human Resource professionals may be in charge of recruiting, screening, interviewing, and selecting the best applicant for an organization. They provide the employee with a proper orientation and make sure they get appropriate training. An HR Specialist assesses employees during performance appraisals, are in charge of motivating employees, and provide them with compensation and benefits. They have to maintain relations with labor and trade unions, and see to employees' safety, welfare and health by complying with labor laws.
Additionally, Human Resource professionals may:
Compile and keep personnel records for an organization
Record data for each employee, such as an address, weekly earnings, absences, amount of sales or production, supervisory reports, and the date of and reason for termination
Handle employee relations, payroll, benefits, and training
Prepare reports for employment records, file employment records, or search employee files and furnish information to authorized persons
Is a Rewarding Career in Human Resource Right for You? Get More Info…
If you're interested in learning more about a career in Human Resources, fill out the form on this page to receive more information. A friendly Beal University Career Advisor can answer career questions, guide you to our virtual tour, and get you helpful financial aid information. Get the answers you need to discover the perfect career path for you.
For immediate questions, call 207-307-3900
*Program length when completed in normal time.