About Beal University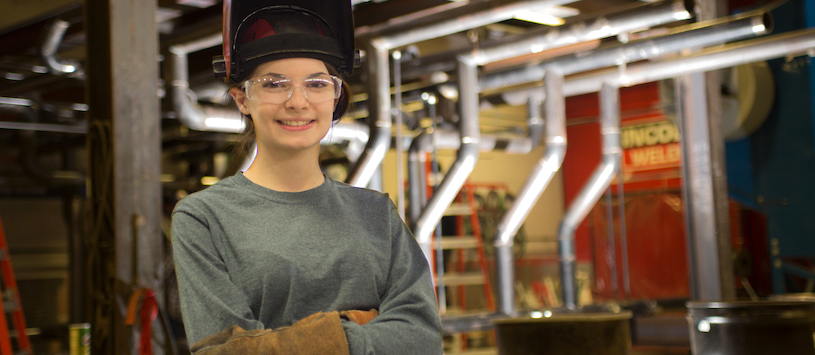 Get the Support You Need to Start a Career in 20 Months or Less*
We want you to become a successful graduate, attain your career goals and more. That's why Beal University has put all of the measures in place to support the advancement of your education and your career prospects. Read on to find out more.
For more information contact us, or call 207-307-3900.
How Beal University Will Help You Get Ahead
Here are some of the ways that completing your education at Beal will help you advance while in school and after graduation:
Flexible Class Schedules – Get on the fast track to the career that you want. Our classes are accelerated, running on 

8-week modular systems

, which are half as long as regular semesters. There are 6 start dates per year for you to choose from, and classes run year-round. That means you could finish your Associate's Degree in 20-months or less if you are a full-time student

Direct Entry – Once your admissions application is accepted and you pass your entrance exam, you'll gain direct entry into the program, meaning you won't be put on a wait-list or into a pre-program if the slots are filled. Instead, you'd start in the following 8 weeks
Student Resources and Amenities – Beal offers student services including free peer tutoring, dedicated study groups, academic advising, and more. We've also put in a lot of effort to create a campus life that will nurture you, with amenities like a cafe, gym, bookstore, and library
Online Classes Available – We provide online classes for your convenience. You have the option to complete courses solely online or in a blended on-campus/online format. This was implemented for those students who live far away or who have schedules that don't allow them to attend class during regular school hours
Career Services – Whether you're a current student or graduate, we'll assist you with resume writing, interview techniques, job search methods, employment leads, employment trends, professionalism, and more. Discover our career services department today
History
Established in 1891 by Miss Mary Beal and located in Bangor, Maine, Beal University just celebrated 125 years of service to Maine citizens. Beal offers the ideal environment for students who want a targeted, hands-on education that provides the skills and training necessary for the careers of today while preparing them for the employment trends of tomorrow.
Mission
Beal University's mission is to become partners with our students on their journey to improve their career opportunities through the contemporary academic programs offered at Beal University.
Vision
Beal University will become the region's premier University by focusing on academic programs and associated student support services that are both qualitatively and quantitatively effective.
Community Outreach
Making a positive impact in people's lives is what Beal University is all about. That includes proudly supporting a number of organizations in our community through volunteer work, donations, services, scholarships, and monetary contributions. Here are some examples of the things we have done in the community that we are proud of:
Hike for Homeless, Bangor Homeless Shelter – Participant
Chamber of Commerce, Business Expo – Speed Networking Sponsor
Field for Kids Fashion Show Fundraiser – Sponsor
BangPop Kids Central Festival – Sharing and Caring Sponsor
Bangor July 4th Parade – Grand Marshal
Tee-Off for Lyme Disease Charity Golf Tournament – Sponsor
Field for Kids Charity Golf Tournament – Corporate Sponsor
Hope House Softball Charity Tournament – Team Sponsor
Beal University 125th Celebration Kids Carnival, BBQ and Car Show to benefit the Hope House – Host
Maine Children's Discovery Museum- Super Hero Sponsor
Cool Sounds Concert Series, Downtown Bangor – Hosting Sponsor
Champion the Cure for Eastern Maine Hospital System – KidsZone Sponsor
Maine Oxy Golf Tournament, benefits Camp Capella – Co-Sponsor
Bangor Lock-Up for the Muscular Dystrophy Association of Maine – Participant
Good Samaritan Agency Duck Race – Corporate Sponsor
Penboscot County Ice Arena – Sponsor
Bangor Humane Society – Paws on Parade – Rookie Sponsor
Chamber of Commerce Challenge Golf Tournament – Raffle and Team Sponsor
Old Town Riverfest Parade – Participant
ArtOctober,  Bangor Arts – Presenting Sponsor
Pumpkins in the Park, United Cerebral Palsy – Event Sponsor
Fusion, Bangor Chamber of Commerce – Extravaganza Drink Sponsor
Bangor Parks and Recreation – Website Sponsorship
YMCA, Bangor – Team Sponsor
Festival of Trees, Anah Shriners – Sponsor
Festival of Lights Parade, Rotary Club- Sponsor
Downtown Countdown New Year's Eve, Downtown Bangor Partnership – Premier Sponsor
Is Beal University Right for You? Get More Info…
If you're interested in learning more about Beal University and exploring whether we have the right career path for you, fill out the form on this page to receive more information.
For immediate questions, call 207-307-3900
*Program length when competed in normal time.