Careers at Beal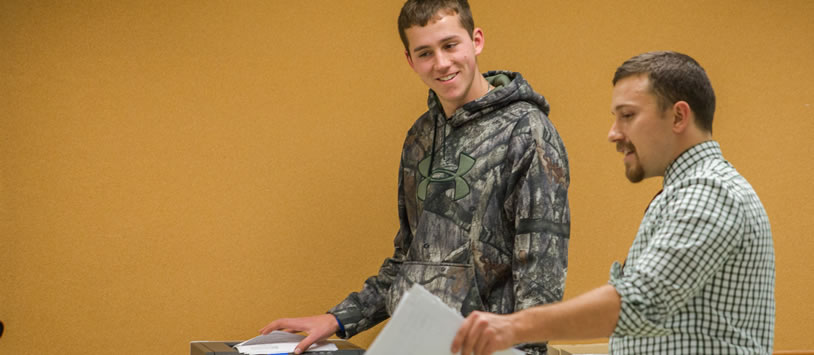 For Beal Instructors There is Nothing More Rewarding Than Helping Students Become Career Ready
At the heart of Beal University are the phenomenal instructors. If you hold a relevant credential and have experience in the field, consider applying for the positions listed below.
Beal University is an equal opportunity employer. Employment opportunities are and shall be open to all qualified applicants solely on the basis of experience, aptitudes, and abilities. Beal University does not discriminate on the basis of race, color, national origin, age, sex or handicap in admission to, access to, treatment in or employment in its programs and activities.
Position Type
: Part-Time
Employee Status:
Adjunct
Accountability:
Reports to Program Director Beal University is actively hiring Adjunct Instructors for all programs (diploma, associate and bachelor, and master degrees). Classes run in 8 week terms (mods) and are taught in various forms of delivery including online, hybrid and on campus.
PRIMARY RESPONSIBILITIES
Prepare and provide all lecture, laboratory and clinical instruction according to the required curriculum
Follow current course outlines, objectives, and evaluation mechanisms for the program and/or develop such when indicated by the Program Director
Maintain a lesson plan of daily instructional event
Monitor student attendance, academic activity and retention and document as required by the administration
Grade assignments, returning graded assignments to students, and assigning final grades for all students in a timely manner (i.e. less than 48 hours from the due date of the assignment/homework)
Provide educational assistance to students during regularly scheduled times (i.e., office hours) or by appointment
Substitute in classes when necessary
Maintain professional expertise (faculty development and professional growth) to meet accreditation standards by attending educational seminars in professional field; attending teaching improvement as provided including mandatory online training and reading current literature, attending online courses, etc.
Ensure that students follow the catalog guidelines daily
Attend all scheduled mandatory meetings
Online Instruction:
Ensure daily review of the course to monitor student participation, answer student questions and grade student work within 48 hours
Perform other duties as required
QUALIFICATIONS AND SKILLS
Doctorate for Graduate level programs, Master's degree for Bachelors level program, Bachelor's degree for Associate's and diploma level program
Must have minimum of 18 credit hours in specific subject matter
Preferred prior teaching experience preferably with online experience
Experienced with a Learning Management System preferred (Canvas)
COMPENSATION
Pay by Course and/or Credit Hour
Compensation dependent on experience, knowledge and education level
Adjunct Nursing Faculty
Beal University
Beal University in Bangor, Maine is one of the oldest private college in Maine with over 129 years of educating Maine citizens. Beal offers the ideal environment for students who want a targeted, hands-on education that provides the skills and training necessary for the careers of today and beyond. Beal University Beal is in the process of opening a branch location in Moncton, NB and is actively hiring Nursing Faculty for the Registered Nursing degree program.
POSITION DESCRIPTION:
The primary responsibility of a Nursing Faculty member is the planning, coordination, preparation, presentation, and evaluation of classroom, clinical, and laboratory teaching and related activities. Nursing faculty collaborate with the Nursing Program Director to develop, plan, implement, evaluate, and revise the Bachelors Degree Nursing program on an continuous basis in order to achieve/maintain national accreditation status.
We are currently looking for all clinical related adjunct faculty.
MINIMUM QUALIFICATIONS: 
A Nursing Faculty member must hold a current registered nurse (RN) license (unencumbered) in the province of New Brunswick and have a graduate degree with a concentration in Nursing. The nursing area of study preferably should be nursing education. A Nursing Faculty member must have a minimum of 3 years of clinical work experience in medical-surgical nursing, maternal-child nursing, and/or behavioral health nursing. Nursing laboratory/simulation experience is preferred. Evidence of professionalism and the ability to work collaboratively is imperative. Additionally, the candidate must have strong interpersonal communication, speaking and writing skills, and the ability to manage time effectively.
RESPONSIBILITIES: 
The responsibilities of a nursing faculty member include didactic, clinical, laboratory/simulation teaching. Faculty must have the ability to create and maintain an environment conducive to effective teaching and learning. Student advising is a priority. The faculty member is also expected to participate in the Nursing Program's continuous curriculum development as well as activities to support program accreditation. The development and maintenance of effective relationships with staff at clinical facilities is essential.
APPLICATION PROCEDURE:
Individuals interested in applying for this position should forward their résumé and cover letter, transcript of highest degree earned, and a list of three (3) professional references with contact information to: Human Resources Beal College 99 Farm Road Bangor, ME 04401