Get the Skills to Become a Welding Technology Professional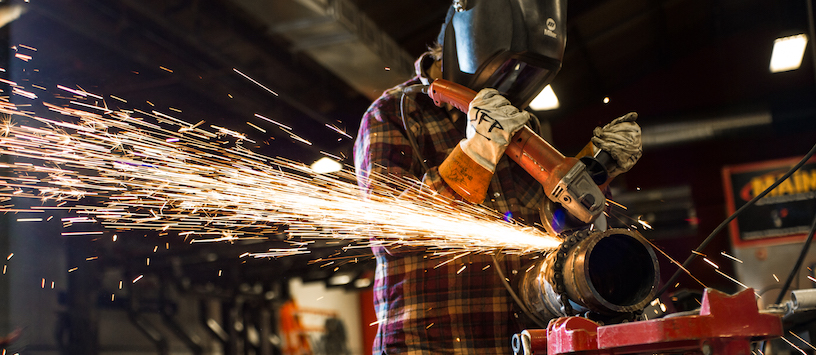 16-Month* Welding Technology Program in Bangor, Maine
Skilled trades workers are always in demand and welding is no exception. Welding takes precision, spatial awareness, and a solid understanding of mathematics and engineering. If you've got these skills and are interested in applying them to a career as a Welding Professional, Beal University will help you get there. You can expect the training you receive from the Welding Technology Associate's Degree or Diploma program to help you transition into an apprenticeship and, ultimately, the workforce.
Your Future in Welding Technology
At the outset of the Welding Technology Associate's Degree or Diploma program, you'll train in metallurgy and basic welding using the shielded metal arc (stick) welding process. Once you have mastered the basics, you'll learn advanced skills in pipefitting layout and design, and pipe welding approaches using the gas metal arc welding (MIG) and gas tungsten arc welding (TIG) methods. As a student, you will become proficient with two cutting techniques: oxyfuel and plasma cutting. You'll also take required classes in flux-cored arc welding, blueprint reading, and quality assurance control to prepare you for employment in several welding industries.
The Welding Technology Associate's Degree or Diploma program can open doors to many rewarding career options, so you can be confident you're making the right choice for your education. After graduating and completing your certifications, you'll feel fully prepared and confident to start your new career. You'll be qualified to pursue employment in a variety of manufacturing and construction industries. These include bridge and building construction, metal fabrication, shipbuilding, power generation, the petrochemical industry, the paper industry, and more. Better yet, as you acquire more experience and training, you can look forward to opportunities for advancement.
Next Start Date: Sep 7thWelding Technology Beal University - Bangor Campus If you prefer a hands-on career rather than being stuck behind a desk, consider taking the Welding Technology Associate's Degree at Beal University. This dependable trade will give you countless career options to choose from, and skilled workers will always be in demand. Take the first steps to start an exciting Welding career at Beal University today.https://beal.edu/wp-content/uploads/2018/10/welding.jpegBeal University
The best way to see if Beal University is the right fit for you is to contact an admissions representative. Get more information on the Welding Technology Associate's Degree or Diploma program, class schedules, and financial aid options so that you can make an informed decision about your future. Get more info or Book a Tour.
Become Qualified in Welding Technology
Our welding lab has 14 bays outfitted with high-end equipment. Unlike other technical schools that split hands-on time between two students, you'll get an entire welding booth to yourself. That way, you get 100% contact hours while you're training.
With flexible online and on-campus schedules, smaller class sizes, and accelerated programs, you will feel prepared and supported to pursue your career goals upon graduation.
During the Welding Technology Associate's Degree, you'll take courses such as:
Pipefitting Fundamentals
Practical Pipefitting
Introduction to Metallurgy
Shielded Metal Arc Welding Basic, Intermediate & Advanced
Shielded Metal Arc Welding Structural
Shielded Metal Arc Welding Pipe I & II
Flux-Cored Arc Welding
Blueprint Reading and Drafting for Welders
Gas Metal Arc Welding Basic
Gas Tungsten Arc Welding Basic, Advanced & Pipe
Quality Assurance/Quality Control
Gas Metal Arc Welding and Gas Tungsten Arc Welding Welding of Aluminum
Keep in mind, if you choose to take the Welding Technology Diploma program, you will not be required to complete all of the courses that appear on the list.
With flexible online and on-campus schedules, smaller class sizes, and accelerated programs, you will feel prepared and supported to pursue your career goals upon graduation.
Diploma and Degree Options
As a student, you'll start by taking the 16 month*, 46 credit Welding Technology Diploma program. From there, you can choose to take an additional 6-months* of general education courses online to complete the Welding Technology Associate's Degree. With that option, you would graduate with both a diploma and a degree.
Welding Technology – Diploma: 
If you are looking to quickly start a career in Welding, consider our 16-month* Welding Technology Diploma program. This program is designed for those who wish to take a faster, less in-depth program. At the end of this program, you can sit for your certification exams.
Welding Technology – Associate's Degree | 6 Months* (Prerequisite: 16 Month Diploma Program)
100% Online (this is a degree completion program – student must possesses a Diploma in Welding Technology)
Our 6-month***Welding Technology Associate's Degree completion program is designed to give you broader training and with this option, you would graduate with both a diploma and a degree.
Certifications Make You Employable
Graduates of the Welding Technology Associate's Degree or Diploma program will have the opportunity to test for two American Welding Society certifications (Flux-Cored and Structural Stick) and two American Society of Mechanical Engineers (ASME) certifications (Stick Pipe and Stick Tig Pipe). Earning these certifications increases your employability. For this reason, many Beal University Welding Technology graduates are in high demand.
Welding Test Center
Take your certification examinations at Beal University's Welding Test Center. Every few years Welding Technology Professionals have to get recertified. Beal Offers a Welding Test Center where our graduates and alumni can get certified (or recertified), plus we offer those services for local businesses as well.
Funding Your Education with Veterans Benefits
We've noticed former military personnel are attracted to the Welding Technology Associate's Degree or Diploma program. Veterans, we appreciate the sacrifices you have made for our country, which is why we want to help you with vocational training – so you can successfully reintegrate into civilian life. That's why Beal University offers career training for military personnel, veterans, and their dependents under the GI Bill®, which is a registered trademark of the U.S. Department of Veterans Affairs (VA).
We also know it can be hard having your military experience recognized in a job or school setting; universities do not always appreciate the significant life experience that veterans have. Beal University may accept armed services courses or give credit for life experience if you can prove that your prior learning is equivalent to specific university courses. To find out more visit our Veteran Benefits page or talk to an Admissions Advisor.
What You Can Gain With Welding Technology Education
Diverse Career Prospects
Welding is a skill used by many tradespeople, including sheet metal workers, ironworkers, diesel mechanics, boilermakers, carpenters, marine construction workers, steamfitters, glaziers, and repair and maintenance personnel. A Welder may engage in applications ranging from hobbyist home sculpture to heavy fabrication of bridges, ships, and other projects. As a welder, you may work for shipyards, manufacturers, or contractors; federal, state, county, and city governments; firms requiring maintenance mechanics; repair shops; and more.
With a Welding Technology Associate's Degree or Diploma, you could apply for positions such as:
Welder
Steel Fabricator
Pipe Fitter
Quality Assurance/Control
Machine Repairer
Equipment Service Associate
Millwright
Welding is vital to our economy! Nearly everything we use in our daily lives is welded or made by equipment that was welded. Examples include office chairs, coffee pots, bridges, buses, aircraft, skyscrapers, ships, sculptures, space vehicles, cars, battery chargers, cranes, bulldozers, household appliances, pollution control devices, and more. With that in mind, imagine all of the different sectors that you'll have to choose from when you pursue your career.
Welding Technology Professionals Are Needed to Fill Many Roles
As a Welder, you would have a variety of duties, including:
Joining or bonding metal components together to make them act as a single piece
Building structures or equipment through the use of welders, cutters, shapers and measuring tools
Producing metal products that meet employer or customer requirements, and following blueprints
Repairing and maintaining structures and equipment made from metal
Determining the materials needed and timeframe for a given project
Is a Rewarding Career in Welding Technology Right for You? Get More Info…
If you're interested in learning more about professional career training, fill out the form on this page to receive more information. A friendly Beal University Career Advisor can answer career questions, guide you to our virtual tour, and get you helpful financial aid information. Get the answers you need to discover the perfect career path for you.
For immediate questions, call 207-307-3900
*Diploma program length when completed in normal time.
**Except Welding Technology Diploma Program
***Associate's Degree program length when completed in normal time.