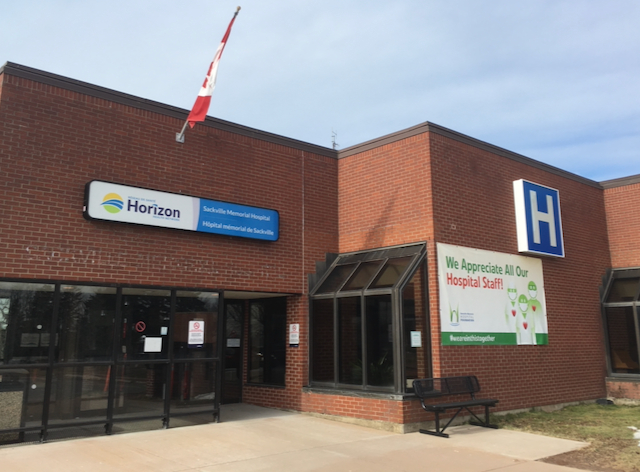 Sackville has been home to a university for just over 180 years, and in 2023, it might just become home to a second, if Beal University Canada gets the green light from the Maritime Provinces Higher Education Commission (MPHEC) to operate as a university in the province.
But a common location in Sackville is where the similarities between Mount A and the new Beale University Canada end. Beal is a private university, and is planning to offer just one program, a Bachelor of Science in Nursing. And its classes won't take place on a traditional campus. Nursing students would spend their first 12 months in online classes, and then would move on to clinical studies inside the Sackville Memorial Hospital.
"Through a wonderful partnership with Horizon Health and Sackville Memorial Hospital, Beal University Canada will be setting up clinical classes in the Sackville hospital," says Holly McKnight, president of Beal University Canada. McKnight is also dean of health sciences, business and technology at Beal University US, which started out as a business college in Bangor, Maine in 1891, and now delivers 27 programs, including nursing programs.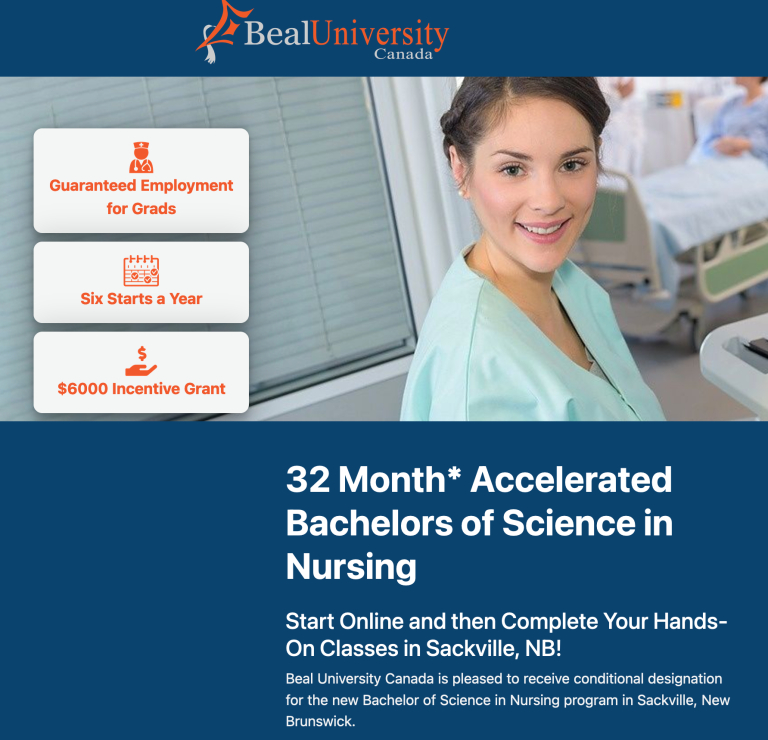 McKnight says that a couple of years ago, just before the pandemic, the government of New Brunswick approached Beal University about a partnership. That started out with an announcement in October of up to $600,000 in student grants for students who complete a Bachelor of Science in Nursing through Beal University. The department of post-secondary education, training and labor (PETL) will give up to 100 New Brunswick students in their second and third year of Beal's nursing program a combined total of $6,000 each in grants to help cover the $42,000 tuition bill from Beal.
Beal Chief Operating Officer Steve Villett told CHMA by email in January that the US school had hundreds of enquiries after the announcement in October, and had enrolled 13 students as of their January 3 intake. Beal has multiple intakes throughout the year, says Villett.
Beal University Canada can't yet actually enroll students, because neither the university itself not the nursing program it would offer have been designated under New Brunswick's Degree Granting Act. But it can start to advertise its program thanks to a conditional approval granted by PETL this month. That approval was given in advance of the MPHEC completing its assessment of Beal, and even before the school submitted a proposal for its Bachelor of Nursing degree program.
Currently, Beal Canada is encouraging New Brunswick students to enroll in Beal US, with the promise that after a year of online study at the US school, they will be able to transfer to a to-be-accredited program at Beal University Canada.
McKnight says Beal University Canada is a "standalone institution" from its US counterpart, and will be headquartered in Sackville. The school will have its own administrative, teaching and support staff, says McKnight.
She's not yet able to say how much space the school will take up inside the Sackville Memorial Hospital. Those logistics, including the number of students that might be accommodated, remain to be worked out. For its part, Horizon Health doesn't have much to say about the program, except that it is committed to finding Horizon placements for Beal students.
Horizon VP and chief nursing officer Brenda Kinney said via emailed statement that the network could not comment on hands on classes at Sackville Memorial Hospital, but that, "Horizon is committed to working with Beal University to ensure that appropriate placements are available for their students utilizing all days of the week and Horizon facilities as available."
McKnight says the collaboration model could move to other Horizon hospitals. "We will be using other facilities and other hospitals whenever they're needed," says McKnight, all coordinated through Horizon Health. "Sackville is the main base and where everything would start. And from there we'd be moving to other locations, depending on where students are from and depending on what the needs are," says McKnight.
It's still not known when the final approval for both Beal University Canada and its Canadian nursing program will come from the MPHEC. During legislative committee hearings on March 1, MPHEC CEO Catherine Stewart told MLAs that Beal had still not submitted a proposal for a Canadian Bachelor of Science in Nursing program.
"Beal is undergoing, currently, an institutional assessment," said Stewart. "We have not yet initiated the program assessment. We do not have their program proposal for the Bachelor of Nursing."
Stewart also pointed out that while Beal US has a number of nursing programs on offer, including a Bachelor of Nursing completion program, there is no single program degree program such as has been promised in Canada. The Beal University Canada programs promises a 32-month nearly continuous program with a few week-long breaks each year.
Stewart told the committee that the process to approve a new program involves assembling a panel of three experts, and the process could take about six months of back and forth between the MPHEC panel and the applying institution.
Another private college, Oulton, has also submitted a proposal to run a new nursing program in the province. Stewart said Outlon's assessment is complete and has been submitted to PETL for a decision.
Article by: Erica Butler, News Director/Journalist/Host at CHMA