This year, Medical Assistants and CMAs (AAMA)® will be recognized across the country from October 18 to 22, 2021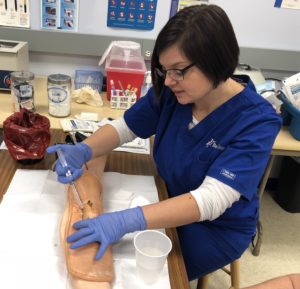 To help you appreciate the extraordinary work of medical assistants, we would like to walk you through their typical day at the office:
Arrive Early
The typical workday of a medical assistant starts before the first patient is scheduled to arrive.
They usually check phone messages and emails before logging into computer to review the day's appointments and retrieve necessary patient records.
Next, they will set out to prepare the exam rooms for the first patients of the day.
During Patient Hours
As patients arrive, our medical assistants greet them, bring them to examination room, check their vital signs, review and update the patient's history and document reason for visit and symptoms experiencing.
Medical assistants receive treatment directions from the physician. Medical assistants may draw blood, give injections, and preform ekgs as directed. Medical assistants provide pre and post-exam instructions to patients.
In between all this, medical assistants also take and relay patient messages for physicians, make and return calls, manage scheduling and utilize electronic medical records.
End of Day
Medical assistants are often the first ones in and the last ones to leave. When the last patient leaves, medical assistants continue to update patient charts and complete other administrative tasks. They help clean the exam rooms and prepare for the next day.
Due to their versatility, patient-centered attitudes, and clinical expertise, it's no wonder medical assistants are the backbone of our organization.  And according the the U.S. Bureau of Labor Statistics, medical assistant is one of the fastest-growing career paths in the country.
We hope Medical Assistants Recognition Week helps raise awareness as to the vital work of medical assistants and inspires a new generation of caring, passionate, and skilled healthcare professionals.
Learn More…
If you're interested in learning more about professional career training, fill out the form on this page to receive more information. A friendly Beal University Career Advisor can answer career questions, guide you to our virtual tour, and get you helpful financial aid information. Get the answers you need to discover the perfect career path for you.
For immediate questions, call 207-307-3900