With the number of people struggling with drug and alcohol abuse on the rise, states seek substance abuse counselors to give compassionate hope as well as critical help.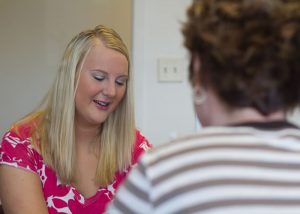 It is becoming more normalized in our society to see stories of drug addiction, alcohol abuse, and even death involving these substances when we open a newspaper, turn on the television, or open a social media application.
In Maine alone, the State Epidemiological and Outcomes Workgroup for the Maine Department of Substance Abuse and Mental Health Services found that over 29% of adults age 18 to 25 engaged in illicit drug use over a one month period in 2013. This was even higher than the national average of 21.8%. (11.6% of adults over the age of 26 also engaged in these behaviors.) In 2014, they also found that 1 in every 3 Maine DEA offenses involved heroin and these arrests quadrupled from 2010 to 2014. Alcohol related overdoses also tripled from 2013 to 2017. These staggering statistics are only growing as we face the binge-drinking culture and opioid epidemic in our state and country.
Substance abuse is a serious problem that must be addressed. Among many solutions to this pressing social and health issue, substance abuse counseling is an integral step in the healing and recovery process. Currently, the need for skilled substance abuse counselors is high. The Bureau of Labor Statistics projects that there will be a 23% increase in need for substance abuse counselors. This is a much faster rate than most careers as our society sees substance abuse remain a dilemma.
The Maine SEOW cited that in 2016 "…a little more than one in three substance use treatment admissions listed alcohol as the primary reason for treatment followed by heroin/morphine, and other synthetics." They also found that "…over half (58%) of the primary admissions were related to opioids or opiates."
The substance abuse counselor role has also seen a sharp increase as states look to providing services for drug offenders in addition to (or rather than) jail time. According to the Bureau of Labor Statistics, it has been found that drug offenders are less likely to abuse again if they receive mandated counseling for their addictions. Many punishments for substance crimes are starting to include rehabilitation as a condition of an offender's sentencing in an attempt to help the drug crisis our communities are seeing.
A substance abuse counselor can be a professional intervention point that becomes the foundation for treatment in these cases. A substance abuse counselor can work in a variety of settings to provide their services to a wide range of ages and walks of life. These settings could include mental health centers, prisons, probation or parole agencies, juvenile detention facilities, inpatient or outpatient facilities, day programs, halfway houses, detox centers, or in employee assistance programs. Right now in the Bangor area, there are 20 pages of online job postings for substance abuse counseling professionals. The flexibility, personal connections to be made, opportunity for career choice and stability, and the nature of helping others in multiple facets make becoming a substance abuse counselor an appealing choice to many — a career choice that can make an impact.
In addition to being compassionate, patient, and having well developed interpersonal skills, someone seeking to be a substance abuse counselor will be tasked with helping patients adjust to life without dependency on substances and guiding them to make changes to their lifestyle. Substance abuse counselors are also responsible for working with other professionals to construct treatment plans based on a client's history, experience, and through continual research in their field. These professionals also help to monitor and evaluate a patient's progress toward their goals and recovery through relationship building and accountability.
Becoming a substance abuse counselor is now more accessible than ever. Programs like Beal College's associate degree or 1-year certificate in substance abuse counseling make it possible for students to be prepared to sit for the CADC (Certified Alcohol and Drug Counselor) examination in less than 2 years. Beal's program also offers real life experience in the community as well as the classroom while exploring the theories of addiction, single and group counseling techniques, family addiction dynamics, crisis intervention, and even co-occurring disorders. The coursework and applicable practice given in these programs is truly invaluable and can lead to an abundance of opportunities for successful graduates to help those struggling with substance abuse in our communities.
Beal's programming insures that their trained substance abuse counseling professionals are prepared to take on the challenges of supporting others through addiction, cultural differences, special population concerns, and many other factors that make this kind of counseling so complex, but so important. The college offers either a 12 month diploma program or a two year Associates Degree in Substance Abuse Counseling.
Regardless of the many positions substance abuse counselors can choose from, the reward exists. Being a substance abuse counselor can not only change lives, but often times saves them.
The Bureau of Labor Statistics mentions that counselors who have even conquered their own addictions make for successful and effective counselors for their patients. Many think their individual or domestic struggles could hold them back from a position like this, but research shows that this personal journey can be a beneficial model to those in the long process of recovery.
The substance abuse counseling diploma or associate degree programs at Beal College can open the doors for you to take the first step into a career like this one. With small class sizes and flexible mod scheduling, Beal's program can fit into your lifestyle so that you can join this rapidly increasing field of substance abuse counseling. You can broaden the horizons of opportunity and expand your empowering ability to help others by enrolling in Beal's next mod with a starting date of April 29th, 2019.
Whether you have your own story to tell or have the empathy to give to others, a role in substance abuse counseling is a rewarding opportunity for you to make a critical difference in the lives of others and to provide hope to our society through your career.
By M. Kidder