Hike for the Homeless event caps off weeks of area fundraisers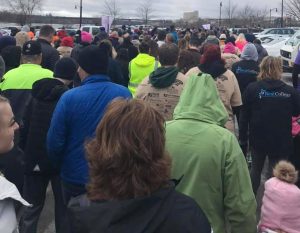 Bangor Daily News | Saturday, April 6 saw the culmination of weeks' worth of fundraising at the Hike for the Homeless event, which took place at the Bangor waterfront, starting at 10 a.m.
Beal College was one of the corporate sponsors of the event.
The fundraising involved "a real team effort," according to Steve Villett, Beal's Chief Operating Officer. Due to Beal College's sponsorship of the Hike, the College was able to register 15 hikers. Beal also registered 55 additional hikers thanks to the ongoing fundraising efforts. The 70 hikers who participated through Beal comprised staff, students, and their family members.
Beal staff worked with a committee of students in the Substance Abuse Counseling program to raise money for the event. The various contributions to the Hike as a result of efforts by Beal students and staff totaled more than $1,500.
The group relied on the generosity of the Beal community, as well as connections with other organizations. On April 1, Governor's Restaurant on Broadway in Bangor offered a $5 special on burgers, with a portion of the proceeds going to the Hike. In addition, Governor's provided two $25 gift cards to raffle off that evening.  Beal's Student Affairs Robin Tardiff noted that Dan Negrete, a Beal student as well as an employee of Governor's, was instrumental in making the event at Governor's happen.
Garland Street Market in Bangor was a location for one of Beal's "change jars," which collected donations to help fund the event.
At the Beal campus, staff and the students organized a 50/50 raffle and candy grams. The candy grams, said Robin, were "an effort to raise money while giving someone a pat on the back." Staff and students at Beal could purchase a lollipop and attach an inspirational message to it; it would then be delivered to the indicated recipient, which would be a student or a staff or faculty member. The candy gram and change donation ran from March 18 through early April.
Beal staff wants to thank everyone who participated in fundraisers and the Hike itself.  In particular, the staff would like to highlight the following individuals for their involvement in organizing and running the fundraisers: Lynn Martin, Michelle Kimball, Samantha Ahearn, Alisha Goss, Gina Nelson, Maria Horodeski, Dan Negrete, and Patti Nickles.