Claim Your $1000 Scholarship – Only at Beal College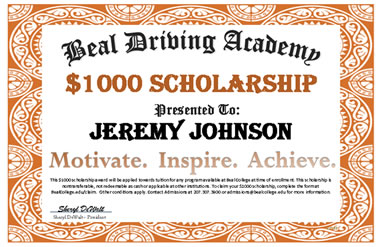 Since 1891, Beal College's mission has been to provide college degrees in fields where thousands of graduates have become gainfully employed in our local economy!  Over 90% of the fastest growing jobs in the future will require some type of post‐secondary education or training*. Over a lifetime it is estimated that a college graduate earns over $1 million more than a high school graduate**. 
Beal College graduates say:  "Beal is for ME and for Maine!"
This $1000.00 Scholarship is EXCLUSIVELY for Beal Driving Academy Graduates!
This $1000 scholarship will be applied towards tuition for any program available at Beal College at the time of enrollment. This scholarship is a tuition discount and is not transferable, redeemable as cash and cannot be applied at other institutions. Scholarship is applied up to the unfounded tuition, fee and book charges and will not result in a cash stipend to student. Scholarships/tuition discounts must be reviewed and approved by a Beal College official. Scholarships only awarded prior to enrollment and cannot be applied to a student account retroactively. 
* US Department of Labor
** Northeastern University