Get the Skills to Become a Biomedical Science Professional – Online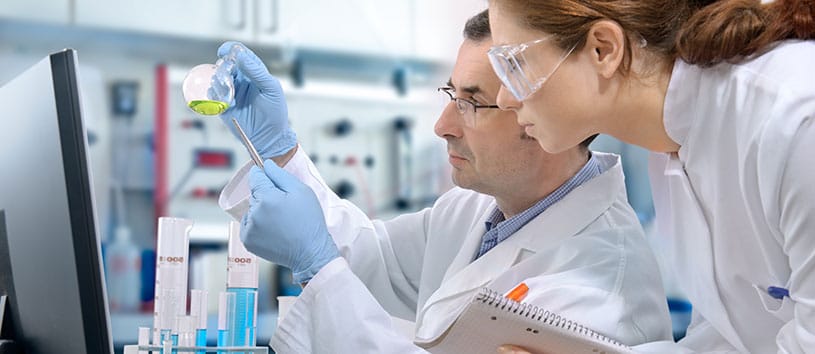 Online Bachelor of Science in Biomedical Science
This 34-month* accelerated Bachelor of Science in Biomedical Science program consists of a science-based curriculum that emphasizes biological sciences and biochemistry to prepare students who are interested in pursuing advanced degrees in various Medical field sciences.   This degree also prepares students for a variety of science-related positions in pharmaceutics, medical manufacturing, clinical and environmental chemistry, laboratories, health departments, and more.
Our innovative Biomedical program can prepare you for medical, dental, osteopathic, veterinary, physician assistant, nursing, or physical therapy programs
Designed for working professionals, recent graduates, or career changers who want to pursue a career in healthcare and are required to complete all or most of the basic pre-medical courses.
A major in biology incorporates online biomedical science courses in biology, chemistry and physics with a broad foundation in the social sciences and humanities. By meeting the degree requirements for the bachelor of science in biomedical science, with the cellular and molecular basis of health and disease emphasis, students will fulfill the prerequisites and the upper-level biology courses which are highly recommended by most medical schools.
The best way to see if Beal University is the right fit for you is to contact an admissions representative. Get more information on the Biomedical Science Bachelor's Degree program, class schedules, and financial aid options so that you can make an informed decision about your future. Get more info or Book a Tour.
The Biomedical Science online degree program at Beal University ensures that graduates are well-rounded in all of the disciplines that make up the healthcare field. Students study topics such as:
Biological sciences
Genetics
Biochemistry
Ethics in healthcare
Physical sciences
Psychology
Future healthcare providers must learn to work closely with all healthcare providers and patients. The work completed in the online Biomedical Science Bachelor's degree program emphasizes the importance of interpersonal and inter-professional communication and ensure that graduates are ready to make lasting contributions in their chosen fields.
With flexible online and on-campus schedules, smaller class sizes, and accelerated programs, you will feel prepared and supported to pursue your career goals upon graduation.
Transfer Credits Accepted
Already have an associate's degree? You could get credit for your previous coursework and graduate even sooner! Get info today to learn if you qualify.
An On-Campus Experience, From Home
Beal University designed the Biomedical Science program with a student-centric approach to allow the freedom of remote learning. Students will not feel alone, though. Beal's support system is there to help students succeed within the program, and into their professional careers.
Students will not have to worry about missing out on a traditional learning experience. Group projects, discussion questions, and integrative assignments create an interactive curriculum. Subsequently, this provides a hands-on experience. In addition to this, students can still access campus services such as the writing center, library services, technical support, and career services.
Gain In-Depth Knowledge of Human Anatomy
The future healthcare providers who graduate from the Bachelor's degree in Biomedical Science program have completed extensive coursework in science and healthcare. Degree coursework is broken into five different domains to ensure a well-rounded education. These domains are:
Science Foundations
Professional and Scientific Communication
Professionalism and Ethics
Data Analysis and Interpretation
Advanced Biomedical Concepts
The advanced scientific concepts included in these domains ensure that Bachelor of Science in biology graduates receive the training they need to excel on their entry-level medical exams and in their future coursework. Some topics included in the program of study are:
General, molecular and cellular biology
General and organic chemistry
Physics
Biochemistry
Genetics
Microbiology
Human anatomy and physiology
Prepare for Graduate-Level Medical Degrees With a Bachelor of Science in Biomedical Science
Advanced medical studies are the next step for graduates of BS in Biomedical Science. The core coursework may also lead students into other biology-related or allied health graduate programs. These Biomedical science graduates are often prepared for applying to and taking tests for programs such as medical or dental school, optometry school and veterinary school.
Is a Rewarding Career in Biomedical Science Right for You? Get More Info…
If you're interested in learning more about professional career training, fill out the form on this page to receive more information. A friendly Beal University Career Advisor can answer career questions, guide you to our virtual tour, and get you helpful financial aid information. Get the answers you need to discover the perfect career path for you.
For immediate questions, call 207-307-3900
*Program length when completed in normal time.