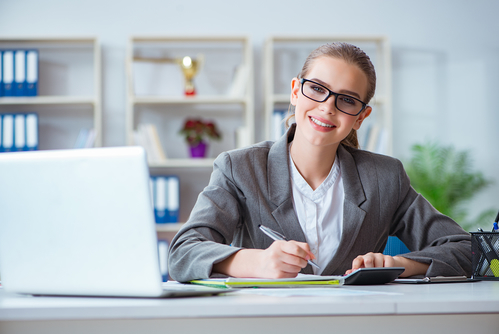 An associate's in accounting can lead to many business-related professions. Demand for these professionals continues to be on the rise. The U.S. Bureau of Labor Statistics (BLS) reports that accountants and auditors could see an employment growth of ten percent between 2014 and 2024. Earning this degree can be the quickest path towards being a member of this rewarding field. Learn what earning this degree can do for your career.
1.  Offers More than Just Accountant Skills
The accounting-based associate's degree is a career-oriented program that prepares you to be more than just an accountant or audit. Student gain knowledge about managing payrolls, monitoring trial balance discrepancies, preparing financial reports, entering transactions and performing data entry into an accountant's system. They also learn to integrate and apply technological skills into business problems while also developing important problem-solving and critical-thinking skills needed in the business world. Regardless of which area of business the student wished to pursue, this degree provides the perfect preparation. Graduates of this degree program are also prepared to take several certifications that can advance their careers.
2.  Requires Few Credits & Less Time
The associate's degree requires fewer credits than a bachelor or master degree. Typically, the associate's degree requires completing only 60 credits as opposed to the 120 credits required for a bachelor degree and even more for a master degree. Not only is this half the credits but it is also half the time spent in college since associate's degrees are usually two years, bachelor degrees are four years and master degrees about two more years. Spending less time in college also equates to being able to join the workforce in much less time. The additional college time saved can be spent becoming a part of this field and receiving valuable on-the-job training for an accountant or business firm. Fewer credits also results in much lower tuition.
3.  Can Be Completed Online
The addition of distance learning in our lives has literally changed our world and made earning a degree much easier and more convenient. This accountant's associate's degree is offered online at many colleges. Unlike so many programs that require extensive on-campus time, this degree can be completely almost entirely if not entirely online. As an online student, you can learn at your own pace and will still have time to work at your regular job. Aspiring accountants may complete this degree online while gaining real world experience working for accountant and tax firms.
4.  Transferrable to a Bachelor Degree
Many students would prefer a bachelor degree but, for some reason, choose to complete an associate's degree instead. The reason may be cost, time or just personal preference. The great news is that the associate's degree can be transferred to a bachelor degree program if the individual decides that is what he or she wants in the future. In most cases, all the student will need is to submit his or her GPA. The student may be able to complete the bachelor degree program in less than the traditional four years because of already possessing the associate's degree.
5.  A Valuable Tool in the Business World
Let's face it, today the majority of businesses either require or prefer their employees have degrees. While the associate's degree may be the lowest degree, it's seen as not only a sign that the individual has some formal training in the field but also as a sign of commitment to the field. Earning this degree can eventually lead to a career as an accountant or even a CPA, but in the meantime it can provide benefits that help get you into the door to show your knowledge and worth to a company.
Accountants, auditors, bookkeepers, tax preparation experts are all careers that not only offer excellent wage potential but also a very challenging and busy career. This field is always in demand. Earning an Associate's in Accounting can be the first step towards solidifying your chosen career.
Is a Professional Accounting Career Right for You? Get More Info…
If you're interested in learning more about a career in Accounting, fill out the form on this page to receive more information. A friendly Beal University Career Advisor can answer career questions, guide you to our virtual tour, and get you helpful financial aid information. Get the answers you need to discover the perfect career path for you.
For immediate questions, call 207-307-3900