Victoria Childbirth Simulator offers realistic scenarios to Nursing students at Beal College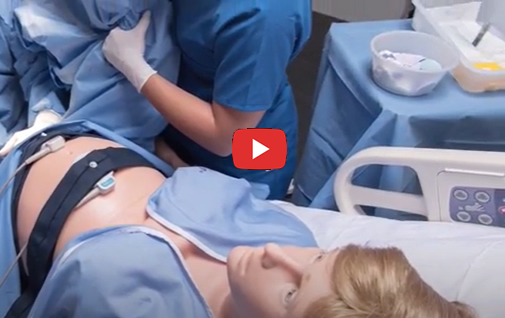 Giving students the opportunity to learn career skills in a realistic environment has always been one of the hallmarks of a Beal education. This spring, Beal's Nursing Program will continue that tradition by augmenting its impressive resources with a new simulator that will challenge and hone students' skills.
The Victoria childbirth simulator offers a lifelike and immersive simulation system that allows students to work through a variety of birth scenarios, including breech and C-section, as well as early pregnancy and post-partum complications. Produced by Gaumard, the simulator consists of advanced manikins that can be integrated with monitoring equipment to provide an experience that is as close to real life as possible.
According to Joe Amoral, Nursing Program Director at Beal,
"We will be able to offer our students experiences that they could encounter in their future practices, giving them the opportunity to practice using the nursing process to correctly provide interventions to future patients."
One of the notable features of the simulator is its advanced feedback systems, including realistic eye movement. This interactive feature can be used to simulate conditions such as stress, drug use, stroke, and more. The simulator also supports a vitals monitor and a broad range of patient monitoring equipment, so students can practice with the same technology they will see in the field.
"The realism we can now offer will hone and sharpen the students' nursing skills," said Amoral.
The process began in fall of 2019. As Beal's Nursing program grew, leadership and faculty began looking for ways to enhance students' educational experience. While the simulator has great benefit for the OB nursing course, Amoral stated that the technology can be used in all nursing courses.
Installation and training for the system aim to be completed by March, 2020.
For more information on the Victoria childbirth simulator, visit gaumard.com.
About Beal College
Beal College offers diploma, associate and bachelor degrees on-campus and online in an environment that values small class sizes, individualized attention, and a hands-on experience. Founded in 1891, Beal College is the longest-running higher education institution in Bangor, preparing students for careers in fields as diverse as nursing (ADN and RN to Bachelors in Nursing), biomedical science (BS), medical assisting, health information (AS and BS) law enforcement, addiction counseling (AS & BS), welding technology, and more. To find out more, visit beal.edu.