Beal College prepares public service professionals to serve their communities as criminal justice opportunities expand.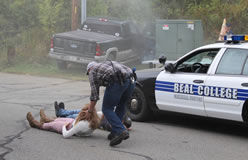 Bangor Daily News – Protecting a community is not a task for the weak. As a society we rely on the individuals in the law enforcement field to keep us safe and protected from harm. We also look to these vital individuals to bring truth, equity, and justice from our neighborhoods up to our nation. With a job as substantial as this, someone seeking a career in the field of criminal justice must have immense integrity, a passion for helping others, great analytical skills, and the courage to stay cool under pressure.
To some, this list of responsibilities is thrilling. If you feel that buzz of ambition when you imagine bringing peace and safety to others, then a career in the field of criminal justice and law enforcement might be the right move to make.
With the United States Bureau of Labor Statistics projecting a 7% increase in job growth for the law enforcement field, your passion and skills will be needed as the career experiences growth. This is the time to take the first step.
Programs like Beal College's Criminal Justice: Law Enforcement Associate's Degree can prepare students for their careers as Law Enforcement Professionals. The US Department of Labor cites that 61% of police officers have an associate's degree or less, making this public service a career within financial and timely reach.
Obtaining a degree in criminal justice is not just a way to become a police officer. There are many other branches and facets to the criminal justice field that might not be commonly considered. Training in a criminal justice program opens up a multitude of diverse opportunities for aspiring law enforcement professionals. Some of these opportunities include corrections and jailing, private security, loss prevention, surveillance, campus and education, alcohol law enforcement agents, sheriffs, and even state troopers.
One of the most dynamic elements of a career in law enforcement is the ability to grow and progress through experience and training in the field. Many professionals who have studied criminal justice advance into roles like detectives, criminal investigators or special agents, and fish and game wardens. There are also unique opportunities to develop their skills into advanced positions for US Departments of Homeland Security, Customs and Border Protection, Marshal Service, Secret Service, and even the FBI or DEA.
Regardless of the ultimate landing place of a career in the vast law enforcement field, the base skills remain the same. Those interested in becoming a law enforcement professional must foster their ability to communicate effectively, have empathy for others, use critical thinking and intuition to be perceptive and make fair judgments, balance and manage stress in a fast paced environment, and show leadership.
One crucial aspect of obtaining a role in the law enforcement field is the physical ability, strength, and stamina to make the cut. A unique aspect of Beal College's Criminal Justice Program is their inclusion of physical education in their curriculum. Beal is the only college in Maine where students take courses like "Physical Conditioning and Self Defense Tactics" in order to make sure that their students are set up for physical success as part of their education. Students will not only gain knowledge on physical fitness, but they will have full access to Beal's fitness facilities on campus. Beal has designed their program to be inclusive of the whole student, just as their future career will expect of them.
Another experience that students will receive as part of their education at Beal College will be hands-on experience in the field with their 160-hour externship. Beal's program has a reputable relationship with the local county agencies and works with them to provide students real-life training and professional networking opportunities to make their students better prepared to transition right into the workforce when they graduate.
Professionals in the law enforcement field don't just make a solid salary (median wage in Maine is about $45,000 with multiple opportunities for overtime pay, according to the US Bureau of Labor Statistics). They even get fantastic retirement benefits and health insurance for themselves and their family, as well as stable job security. Although these may be enticing career elements, the most crucial benefit of becoming a law enforcement professional is the ability to protect, serve, and save the lives of the people in your own communities.
Those looking for a rewarding and undoubtedly honorable career should consider the expansive opportunities in the criminal justice field. Your new public service career may be closer than you think. Beal College's next start date for their Criminal Justice: Law Enforcement Associate's Degree is April 29th, 2019.
Call Beal College today at 207.307.3900 for more information or take Beal's "Career Readiness Quiz" to see if a career in law enforcement is right for you!
By M. Kidder