The Yard sale is Saturday, August 1st from 8am – 4pm on Gilbert Street and Mainewood Avenue.  All proceeds to Souza family.
By Brian Sullivan | WABI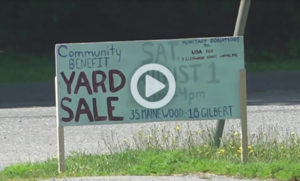 Published: Jul. 30, 2020 at 4:39 PM EDT
ORONO, Maine (WABI) – Residents of an Orono neighborhood will rally this weekend behind a local family that could use some help.
There's a yard sale on Saturday to benefit the Souza family.
TV5 spoke with Sarah Souza Thursday morning. Her husband was recently diagnosed with terminal liver disease. The mother of two made time to talk in between shifts at her two jobs.
She's also a student at Beal College.