Get the Skills to Become a Law Enforcement Professional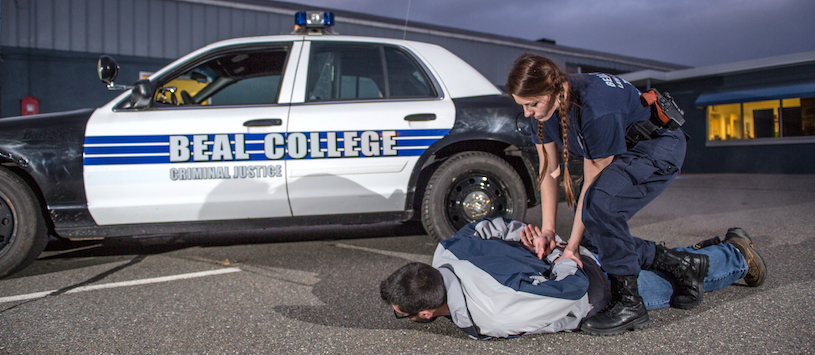 Accelerated Law Enforcement Program in Bangor, Maine
For those who are drawn to a fast-paced, exciting, and challenging career in Law Enforcement, Beal University is here to prepare you for success. The Law Enforcement profession looks promising as job openings are expected to rise in the coming years according to the Bureau of Labor Statistics. Whether you're new to Law Enforcement or you're a current Law Enforcement professional looking to advance your skills, Beal University is here to help you succeed.
Your Future in Law Enforcement
The Law Enforcement program is designed to prepare you for various careers in law enforcement. As a student, you'll get hands-on training to prepare you for real-world situations that you may face if you go on to become a Law Enforcement Professional.
During the program, you'll receive 'use of force' training with a lifelike simulator and practice traffic and high risk stops with police cruisers – all to prepare you for police academy training and more. Upon graduation, you'll be fully prepared to confront the social, ethical, and legal issues officers are faced with.
The best way to see if Beal University is the right fit for you is to contact an admissions representative. Get more information on the Law Enforcement program, class schedules, and financial aid options so that you can make an informed decision about your future. Get more info or Book a Tour.
Diploma and Degree Options
As a student, you'll start by taking the 14 month*, 36 credit Law Enforcement Diploma program. From there, you can choose to take an additional 8-months* of general education courses to complete the Law Enforcement Associate's Degree. With that option, you would graduate with both a diploma and a degree.
At Beal University, we offer two Law Enforcement programs:
Law Enforcement – Diploma (14 Months*):
If you are looking to quickly start a career in Law Enforcement, consider our 14-month* Diploma program. This program is intended for those who wish to take a faster, less in-depth approach to becoming a Law Enforcement professional.
Law Enforcement – Associate's Degree | 8 Months*  (Prerequisite: 14 Month Diploma Program)
100% Online (this is a degree completion program – student must possesses a Diploma in Law Enforcement):
Our 8-month* Associate's Degree completion program is designed to prepare you for a career in law enforcement and provides the opportunity for currently employed law enforcement professionals to further their education. You will be provided with the skills and hands-on training you need to feel fully prepared to start a career as a Law Enforcement professional.
Become Qualified in Law Enforcement
Beal University offers you a practical approach to Law Enforcement education, one that you can put to use every day of your new career. Our courses will help you practice, develop, and master the skills you'll need to respond to emergencies, provide public safety, and investigate suspicious and illegal activities.
You must pass a mandatory fitness test to become a Police Officer, and Beal University has the only program in Maine that includes physical education classes. Our gym facilities, which include updated gym equipment, will help you accomplish this. Also, you'll need to develop your physical conditioning and self-defense abilities to help prepare you for the challenges of your future career.
With flexible online and on-campus schedules, smaller class sizes, and accelerated programs, you will feel prepared and supported to pursue your career goals upon graduation.
Throughout the Law Enforcement program, you'll take courses like:
Introduction to Criminal Justice
Professional Law Enforcement Ethics
Rules of Evidence
Crisis Intervention
Physical Conditioning & Self Defense Tactics
Community Oriented Policing
Criminal Investigations & Forensics
Criminal Law
Constitutional Law
Technical Writing for Law Enforcement Officers
Police Patrol Procedures & Field Training
General Education Courses
If you choose to take the 12-month* Law Enforcement Diploma you will not be required to complete all of the courses that appear on this list.
I loved everything about Beal College. It was two days a week that I could come and escape into my program and to be with other people who are just as passionate as I am about my program. To be able to be around the staff and the students who were just as passionate about our careers as we were. I loved everything about Beal College and being able to come here and learn.
Online Class Delivery
All degree programs at Beal University are offered with hybrid learning options! At Beal, you can take many classes online from the comfort of your home. Distance learning fits your life schedule, letting you complete your courses stress-free. The first 4-6 months of your program can be completed online, so there's no need to put off your education. Hybrid and online learning options give you the peace of mind, flexibility, and support that you need to succeed!
Get Real-World Experience
You will also complete a 160-hour externship near the end of your program. On-the-job learning is an extremely valuable factor in law enforcement education, which is why Beal University gets its students into real-life law enforcement environments. Beal has fostered a strong relationship with our local county so you can get externship placement assistance from professionals in the industry. This first-hand training is invaluable, and it will truly prepare you to become a Law Enforcement Professional.
Diverse Career Prospects
An Associate's Degree in Law Enforcement will set you up for Police Academy training to become a Police Patrol Officer, State Trooper, Sheriff's Deputy and more. With your Beal degree and training at the Police Academy, you'll have the skills necessary to work in a Sheriff's Department, Correctional Facility, in Private Security or Police Departments.
Upon completion of the Law Enforcement program, you'll be qualified for positions such as:
Police Officer
State Trooper
Sheriff's Department
Private Security
Security Guard
Corrections Officers and Jailers
Patrolman / Patrol Officer
Public Safety Officer
Alcohol Law Enforcement Agent Officer
Loss Prevention Officer
Security Officer
Campus Security Officer
Surveillance Agent
Law Enforcement Professionals Are Needed to Fill Many Roles
Police Officers and Sheriff's Deputies are responsible for identifying, pursuing and arresting suspects and criminals, preparing reports, helping accident victims, and maintaining general order in the community. All Law Enforcement Professionals should be competent in listening, have strong critical thinking skills, and exercise good judgment. They should have integrity, attention to detail, and self-control.
While working as a Law Enforcement Professional, you may be given duties such as:
Providing for public safety by responding to emergencies, protecting people and property, and enforcing motor vehicle and criminal laws
Recording facts to prepare reports that document incidents and activities
Monitoring, noting, reporting, and investigating suspicious persons and situations, safety hazards, and unusual or illegal activity
Patrolling specific areas on foot, horseback, or motorized conveyance, and responding promptly to calls for assistance
Identifying, pursuing, and arresting suspects and perpetrators of criminal acts
Rendering aid to accident victims and other persons requiring first aid for physical injuries
Testifying in court to present evidence or acting as a witness in traffic and criminal cases
Is a Rewarding Career in Law Enforcement Right for You? Get More Info…
If you're interested in learning more about professional career training, fill out the form on this page to receive more information. A friendly Beal University Career Advisor can answer career questions, guide you to our virtual tour, and get you helpful financial aid information. Get the answers you need to discover the perfect career path for you.
For immediate questions, call 207-307-3900
*Program length when completed in normal time.