Associate of Applied Science in Emergency Medical Services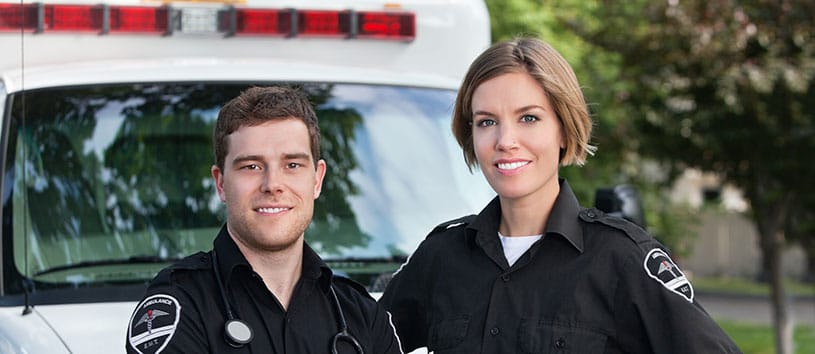 100% Online Degree Program in Emergency Medical Services in Just 10 Months*
The online Associate of Applied Science in Emergency Medical Services Program continues the education of the professional emergency medical technician in order to meet the demands on EMTs / Paramedics in today's complex healthcare environment. Graduates are valued for their abilities to critically think, demonstrate leadership, case management, engage in health promotion, and for their ability to practice across a variety of healthcare settings.
Next Start Date: May 3rdEmergency Medical Services Beal University - Beal University Are you interested in a rewarding career in Healthcare? Our online Emergency Medical Services program will provide you with the skills and knowledge to enter the Healthcare field with confidence. If you're looking to advance your career opportunities or transition into the Healthcare industry, this program could be the perfect opportunity for you.https://beal.edu/wp-content/uploads/2019/11/adobestock_35847133-hero.jpgBeal University
The best way to see if Beal University is the right fit for you is to contact an admissions representative. Get more information on the Associate of Applied Science in Emergency Medical Services program, class schedules, and financial aid options so that you can make an informed decision about your future. Get more info or Book a Tour.
If You are Currently a Licensed Paramedic
And you've taken courses such as:
Paramedical Procedures
Cardiology
Medical Emergencies
Respiratory Emergencies
Trauma
Rescue Operations
Microbiology
You may complete your Associate Degree in Emergency Medical Services at Beal with this Degree Completion program.
With flexible online and on-campus schedules, smaller class sizes, and accelerated programs, you will feel prepared and supported to pursue your career goals upon graduation.
Online Class Delivery
At Beal, you can take many classes online from the comfort of your home. Distance learning fits your life schedule, letting you complete your courses stress-free, so there's no need to put off your education. Online learning gives you the peace of mind, flexibility, and support that you need to succeed!
This fun, online quiz takes 3 minutes to complete and you'll get a personalized report. Identify your strengths and social style plus the training and positions you're best suited for. Get your Medical career readiness score now >>
Program Outcomes
Upon successful completion of this program, students should be able to:
Utilize the EMT/Paramedic process to construct safe, evidence-based, client-centered, and culturally
competent, holistic approaches for care to diverse individuals and populations. All while providing a culture
of caring, diversity, integrity and excellence.
Communicate and collaborate professionally with individuals, families, and members of the interdisciplinary
healthcare team incorporating informatics, technology literacy, and current evidence-based practice.
Collaborate as a responsible and accountable member of the healthcare team, utilizing critical thought to
further develop clinical judgment and decision-making skills to provide safe, quality, patience-centered care,
incorporating a culture of caring, diversity, integrity and excellence
Beal was committed towards [my] success, they really were invested in making sure that I graduated. You never have to worry about being just a number. I think that it is just a testament to their long tradition of valuing their students and making sure they succeed. I'm looking at coming back and taking more courses at Beal College because I enjoyed the experience so much.
Career Opportunities
Upon successful completion of the program (see graduation requirements section of the catalog), students may be able to:
Advance their career opportunities
Increase their pay
Transition into the healthcare field
Use this degree as an educational pathway to other healthcare education / degree
Is the Associate Degree Program in Emergency Medical Services Right for You? Get More Info…
If you're interested in learning more about our EMS program, fill out the form on this page to receive more information. A friendly Beal University Career Advisor can answer career questions, guide you to our virtual tour, and get you helpful financial aid information. Get the answers you need to discover the perfect career path for you.
For immediate questions, call 207-307-3900
*Program length when completed in normal time. This is a degree completion program only and applicants must be a licensed paramedic to enroll.