Beal College in Bangor is piloting Elsevier's virtual reality technology in its nursing program, allowing students to get necessary hands-on experience.
Author: Sam Rogers (NEWS CENTER Maine)
Published: 1:42 PM EDT October 29, 2020
Updated: 6:31 PM EDT October 29, 2020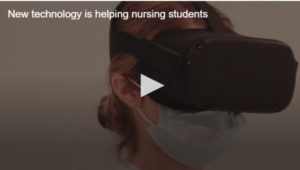 BANGOR, Maine — Beal College in Bangor has graduated two cohorts of nursing students in the past year, helping fill the nursing shortage in Maine. Hands-on experience is a critical part of any nursing program and the COVID-19 pandemic disrupted those clinical hours.
So, the college adapted. Instead of logging hours in local hospitals and primary care facilities, the nursing program switched gears to more virtual education.