Beal College joins the movement to help solve our community's healthcare dilemma by opening their new nursing program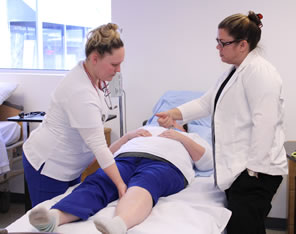 Bangor Daily News:  Maine's healthcare system is facing a crisis that affects most of our population. As a state we are experiencing a critical shortage of registered nurses to care for our citizens in hospitals, doctor's offices, and outpatient or nursing home facilities. This medical field deficit isn't a new concept. Maine has been facing this growing issue for the past decade and we are finally witnessing its peak.
The United States Bureau of Labor Statistics cites that the need for skilled nurses is only going to continue to grow (an astounding 15% by 2026). Adding more job openings to the already desperate list is going to keep Maine residents from being properly cared for. Just in one simple job search on indeed.com, there are over 300 openings for registered nurses in the Bangor area alone. Some Maine healthcare organization have even taken to some unconventional means to attract nursing prospects to fill their positions. These tactics have included bringing in nurses from other countries like the Philippines or the recent law enacted to use military veterans' experience in lieu of coursework to gain interest and speed up their entrance into the medical field.
It's quite clear that we need registered nurses in Maine. Beal College has recently made the decision to help join the cause to get these honorable positions filled. Under the supervision of program director, Dr. Colleen Koob, RN, BSN, DNP, Beal College is now offering a 20 month Nursing Associate's Degree (ADN) program at their institution. Completion of Beal's new nursing program allows for students to sit for the National Council Licensure Examination (NCLEX-RN), and apply for state licensure as a Registered Nurse (RN) in Maine.
While the Maine Department of Labor, Maine Nursing Action Coalition, and many other universities and institutions are trying to find successful solutions to the shortage of nursing professionals graduating in Maine every year, Beal College is setting out to make this rewarding career more accessible to its potential students.
"Choosing a Nursing program can be even more nerve-wracking than the application process," writes Koob. According to the Nursing Schools Almanac, there are over 15 accredited nursing programs in Maine. Beal College understands that solving the nursing shortage is not going to be done with rigid schedules, a hands-off instructional approach, or even daunting wait-lists.
Students who choose Beal's 20 month ADN will have first-hand experiential learning at clinical placements in the area as part of their curriculum. Students have the opportunity to start their educational journey into nursing at 3 different start times per year. Beal continually offers flexible modular scheduling for all students to meet the needs of traditional and nontraditional students alike. Most impressively, Beal has no wait-lists for their nursing program!
"Ultimately, the best nursing program is the program that matches your needs and ambitions," says Koob. Beal is looking to meet the needs of their students and foster their ambitions in order to graduate compassionate, professional registered nurses in Maine. Koob also encourages nursing students to find the program that fits them by looking to the content of the curriculum, NCLEX-RN success rate, instructor availability and experience, as well as where the student sees themselves in five years. These are all elements that Beal is excited to stand behind in their new nursing program.
Koob adds "… if the curriculum fits your style of care, this truly is a[n] indicator of a good fit."
Beal College is enthusiastic about being this good fit that the Bangor area seeks. Their program hopes to educate and inspire those who want to make the career change or advancement that might fill our state's noticeable void of nursing professionals. Beal is committed to helping their dedicated nursing students get the training they need to care for our local and state community.
One of the three start time opportunities for Beal's nursing program is slated to begin April 29th, 2019 with openings available. If you have a knack for helping others, an interest in the medical profession, and a want to take advantage of these vast and growing opportunities in your community, contact Beal College by visiting their website BealCollege.edu or by calling Admissions today at (207) 307-3900.
A dynamic and rewarding career is just waiting for you to answer the call to action with a nursing program like the one that Beal College now offers. Become an important part of the solution to Maine's nursing shortage.
By:  M. Kidder