Bangor Daily News: The COVID 19 pandemic has turned life upside down for everyone across the globe, but a group of nursing student seniors at Beal College are trying to lessen the blow by giving back to the selfless healthcare workers that are on the frontlines fighting this battle in our own community.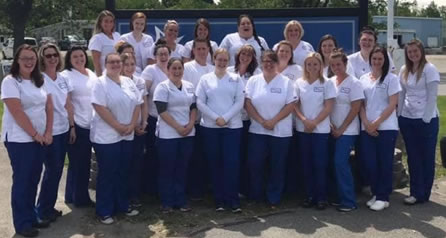 In anticipation of their nursing pinning ceremony, scheduled to be held on May 3rd, 2020, the students of the first cohort of Beal College's Nursing Program have been raising money for over a year to fund this iconic rite of passage into the nursing profession. Like most other events nationwide, this event will not be able to take place as planned, but this group of "new" nurses refuse to let COVID 19 prevent them from making an impact. In lieu of just postponing this milestone event, this group of nursing students is forgoing their pinning and will be using all the funds previously raised to send meals to local hospitals in an effort to show support and say "thank-you" to the staff that are working around the clock, on the front lines, to battling this virus.
"Nursing school is one of the hardest things I have done in my life", states Class President Tish Pendergast, "our pinning ceremony was the light at the end of the tunnel, and a way to celebrate with loved ones that also sacrificed so much with us along this journey. But with the current crisis going on around us, a ceremony is the least of my concerns, I just want to get out there and help. We are all in this together, and I am honored to be part of such a selfless group of individuals."

"Although we are disappointed that we cannot celebrate our first graduates of Beal College's nursing program through a pinning ceremony, we know that these soon to be nurses are well prepared for the profession they have chosen. These students have shown great judgement, and I'm proud to soon call them my colleagues as nurses" says Dr. Colleen Koob, Dean of Nursing.
Florence Nightingale, considered to be the founder of modern nursing, had a history of helping wounded soldiers at night by candlelight. In a symbolic representation of Florence's candlelight, Beal's nursing students are encouraging other nursing programs that have had to cancel events to pay it forward and say thank you to the "soldiers" fighting this battle.
By: LaTeicia Pendergast